In today's world, smartphone is nondetachable part of our body. Time to time smartphone companies used advanced technologies to improve their performance in every area which results very good camera quality of smartphones these days. When you are exploring the world, if you don't own a DSLR camera, a smartphone with HDR quality also enough but it should have a photo editing and beautifying app in it. It will make your memories more memorable with a lot of photo editing effects. But some apps are there which make photos feel like fake, so we gently researched and picked top 5 best free photo editing apps for your iPhone, iPad or iPod touch.
If you are using latest model of iPhone ( including iPhone 7, 8 or 10 ), their camera clarity is very good and you can capture photos in high definition as well. But some photo editing tools are there, which surely make your photo capturing experience wonderful. Here we have listed top 5 best iOS photo editing apps which cost nothing but result unexpectedly, let's move:
Best Photo Editing Apps for iPhone, iPad & iPod Touch
1. Adobe Photoshop Express by Adobe Systems Inc.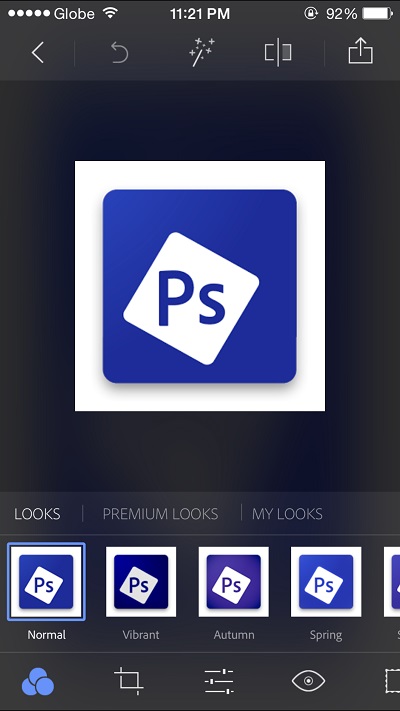 Adobe Photoshop Express by Adobe Systems is a fast, powerful and easy editing tool for mobile devices. It allows you to create incredible memes, to use fantastic fonts, colors and transparency. In case of images it is very flexible and gives you control over border size, color, pan, zoom and provides amazing backgrounds. Also you can make amazing collages in only 5-6 taps. To make collages you can upload photos from Facebook, Google, Dropbox and from your device, and you can share final collage on any social media platform. Main features of Photoshop Express include basic ( crop, rotate, flip etc ), Auto fix ( contrast, exposure etc ), blemish removal, more than 45 effects, attractive borders, image resize options, editing in raw format, tiff support, watermark on images and many more. To enjoy its real beauty, you should download it once.
It is designed for iPhone, iPad and iPod touch, and requires 220MB download space in your iOS device. It is available in more than 18 languages and compatible with iOS 9.3 or later. It attains 4.5 customer ratings in app store and good positive comments. This is the reason why we give it first place in our list.

Recommended Post: Top 10 Best Free iPhone Games of All Time
2. PicsArt Photo & Collage Maker by PicsArt Inc.
PicsArt Photo & Collage Maker with 450 million downloads is one of the best photo editing apps available for iOS devices. After installing this free amazing app you will enjoy:
Their special tools & effects.
Collage maker feature with a number of styles.
Camera with unique and amazing effects.
Clipart library [ free ].
Thousands of user-created stickers.
And best in class fantastic drawing tools.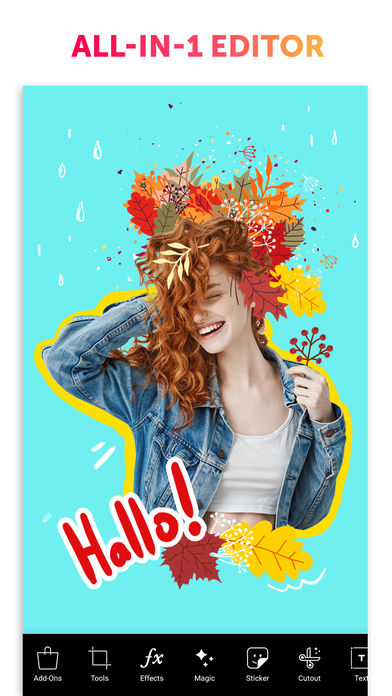 Its photo editor consists of thousands of amazing photo editing features and gives you opportunity to make every picture awesome and fantastic. Its collage and grid making feature provides hundreds of free templates and PicsArt community daily uploads thousands of free backgrounds which you can use for your creativity.
It is available for iPhone, iPad and iPod touch, and requires nearly 130MB download space in your device. It also has a huge number of languages support, which is more than 20. PicsArt is rated for 12+ and compatible with iOS 10.0 or later. Overall user rating of PicsArt is more than 4.4 which makes it a popular photo editing app among iOS users.

3. Instagram
It is a trending photo capturing, editing and sharing app which gives you chance to share world's moments. Here you not only edit and share photos but also follow friends and family to see what they are up to. More than 500 million people are already using Instagram app on their smartphones. You can edit photos with filters and other creative tools, and also combine multiple clips into one video. Instagram also allows you to switch between Apple Watch and your iPhone. So Instagram gives photo sharing feature along with editing tool. So photo sharing is a bonus for you.
It requires 140MB space in your Apple device and available for iPhone, iPad and iPod touch. It requires iOS 9.0 or later for installation. Users review rating on app store is 5 star, which is a great achievement for it. It is available in 25+ languages and rated for users of 12+ year.
So if you are searching for a basic photo editing app with social sharing feature, it is one of the good options available on app store.

4. BeautyPlus – "Snap, Edit & Filter" by Meitu Inc.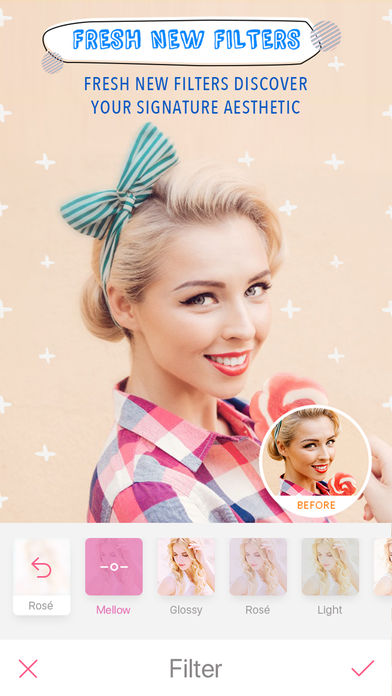 Beautyplus is a perfect selfie and photo editing app with more than 30 editing tools. While taking selfies it uses signature auto-beautification tool which adds an automatic contrast to give you a best selfie ever. It is a favorite app of girls because it has built in makeup for them 😉
It allows you to create natural looking photos and capturing video selfies anytime quickly. It has free unlimited and powerful editing tools like: vignette, blur, selfie timer, multi face recognition, night-mode, crop, stretch, slim and many more. Every tool makes your photos real and living with its natural effects.
BeautyPlus is available for iPhone, iPad and iPod touch, and compatible with iOS 9.0 or later. It is also available in more than 10+ languages and rated for age range higher than 4. It has 4.5 star rating in app store and requires 129MB space in your Apple device.

5. Snapseed: by Google Inc.
Snapseed is a photo editor developed by Google Inc. It is a handy and effective tool for photo editing. It provides 29 best in class photo editing features with very quick access. It requires 157MB space in your device and available in more than 30 languages. Like previous apps, it is also available for iPhone, iPad and iPod touch, and compatible with iOS 9.0 or later. Its current rating on app store is 4, but the main thing which forced us to give it a place in our list is its big list of features and best in class tool-quality. If you have already used above listed apps, this may be your favorite app after download.

Also Read: Top 5 Free iPhone & iPad Security & Antivirus Apps