iPhone is the most secure smartphone developed and designed by Apple Inc. Till now ( June, 2017 ), Apple has released eleven generations of iPhone models. Every Time they focus on their security very well. Being an iPhone / iPad user you are always protected by their #1 operating system in terms of privacy and secrecy. But the matter is different if you lost your iPhone. In this case anyone can misuse your personal data including personal chat or any saved bank details etc. When you are in hurry, there are major chances to lost your iPhone at your workplace, friend's home or in public place. Being a personal device, someone may try to steal it because smartphones these days store people's personal cum confidential information. So someone may try to blackmail you.
In every possible way, it is harmful to you to lost your iPhone or iPad. But here we are providing a step by step guide to track your lost iPhone. If you won't get it, at least you can delete all data from it so that anyone can't misuse your personal data.
How to Track Lost iPhone or iPad Without any App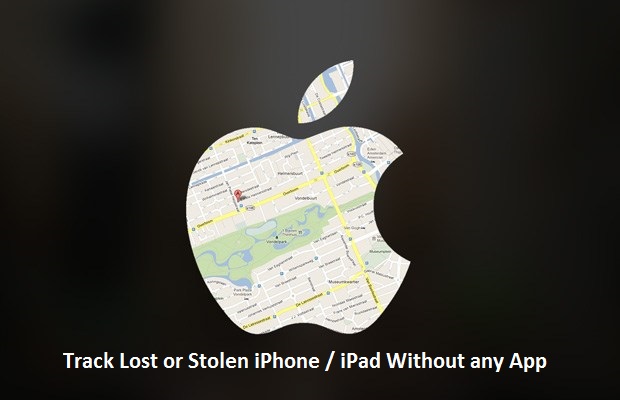 First Method: by Using Find My iPhone
Requirements
For this method you need a continuous internet connection, either WiFi or a cellular internet connection.
Second thing you need is a PC or MAC. You can also use another iPhone, iPad or iPod touch to locate your lost iPhone.
Third requirement, you must remember Apple ID credentials of lost iPhone / iPad.
Note: First of all we want to tell you that in your lost iPhone or iPad, "Find My iPhone/iPad" must be turned on. This is the prerequisite and without it you can't locate your stolen or lost iPhone \ iPad. In this case, you should try to perform following tasks:
Change Apple ID password immediately. It will protect your iCloud data.
Change passwords of your internet accounts on your device. These accounts include Facebook, Twitter, Email accounts etc.
It is better to report local law enforcement.
Also report to your cellular service provider so that they can block your calls and SMS.
Now we are starting the process to find your lost Apple device if Find my Phone is enabled:
Step 1
Go to www.icloud.com from PC or MAC, and login with Apple ID credentials of your lost device. If you are using another Apple device ( iPhone, iPad or iPod touch ), use Find my iphone App.
Step 2
If you have multiple device, there will be a drop down menu, select your lost device here. After a while you will be able to find the location of lost iPhone or iPad. It will be shown on the map with most possible accurate coordinates along with battery status.
Step 3 ( Play Sound )
Well, after finding the correct location you can most possibly get your phone back. If it is in any unnoticed corner of your house, you can play a sound on it. So it is also a favorable step you can use for quick action.
Step 4 ( Lost Mode )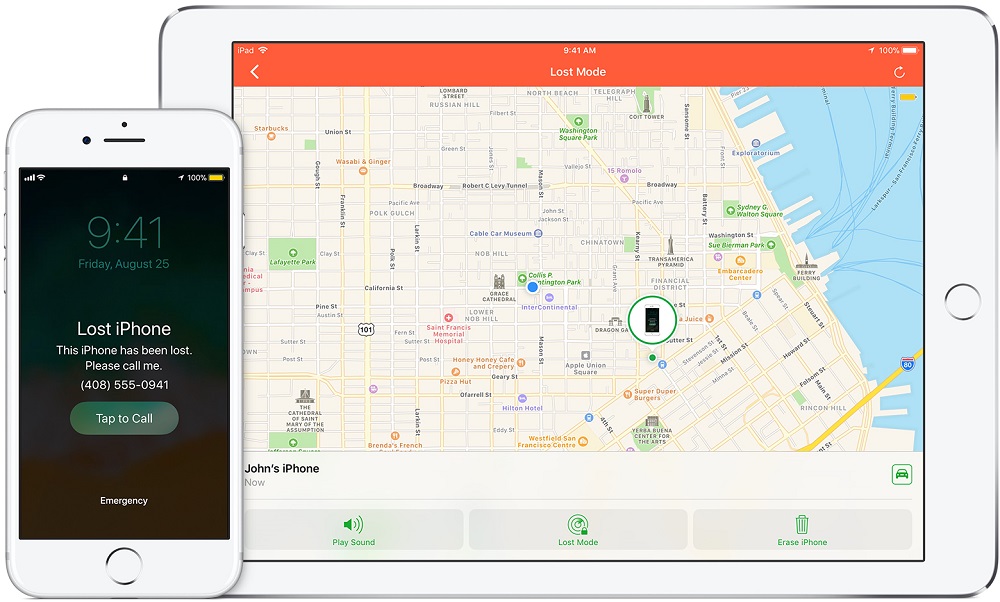 Using this mode, you can remotely lock your phone with a passcode or display a message on screen of lost phone. Message may be like: "This phone has been lost, please contact: mobile number". After putting your device in lost mode, its ability to make payments using Apple Pay automatically gets suspended.
Step 5 ( Erase iPhone )
This is the step in which you can erase all of the content of your device including Apple Pay details. After performing 'erase iPhone', you can't further locate your device with Find My iPhone. So if you remove your device from your account, someone else can turn it on and use it.
What If Device is Switched off or Not Connected to Internet
If your lost device is switched off at the moment or not online, you can put it to lost mode and erase data, and when it will become online, these remote commands will take effect.
To turn off Lost Mode command, you can just do it by entering passcode on it, or from iCloud and Find My iPhone App.
Second Method: by Using Google Location Timeline
If you have installed Google Maps on that device, you can track it using Google Map Timeline. Google Maps always keeps track on your movements using GPS and save your locations every time you visit anywhere.
Requirements:
GPS must be enabled in lost device.
Internet connection must be enabled.
Google Maps must be installed on that device.
You just need to logon to www.google.com/maps/timeline. On the left side in upper corner, click on 'Today'. It will show you every move of lost device today. Its current location and path followed by the thief time to time will be shown on map.
If your device switched off or lost internet connection, maps will show you the latest location captured when it was active.
So we recommend users to enable lost my iPhone and GPS of your iPhone always to make it more secure. Also one thing which you should keep in mind that these methods are beneficial if you apply them as soon as possible after the loss of your device, so that thief won't get the time to think and you probably catch him red handed. By the way, be careful, be smart.