Ads on home screen and lock screen of your Android OS smartphone are due to some unwanted software, spyware, malware, virus or any other similar program. These programs get  installed on your smartphone when you surf corrupted websites on internet. There are a lot of websites on Google which contain these corrupted programs and when you tap anywhere on these websites, you receive many pop ups, and after one more tap automatic installation starts. These pop ups install malicious software on your phone which shows these ads. We have solved this problem and below we are giving step by step guide which takes only 5 minutes to get rid of them. 
How to Stop Ads on My Android Home Screen
We are explaining the complete process in steps, keep affected phone in your hands and follows the given steps:
Enable the internet data on your phone and go to settings
Now, in older versions of Android go to Settings > Apps. In some smartphones there will be option Settings > Application Manager and in others you will find option Settings > Installed Apps
Now tap Downloaded, which shows the complete list of downloaded apps, as shown below: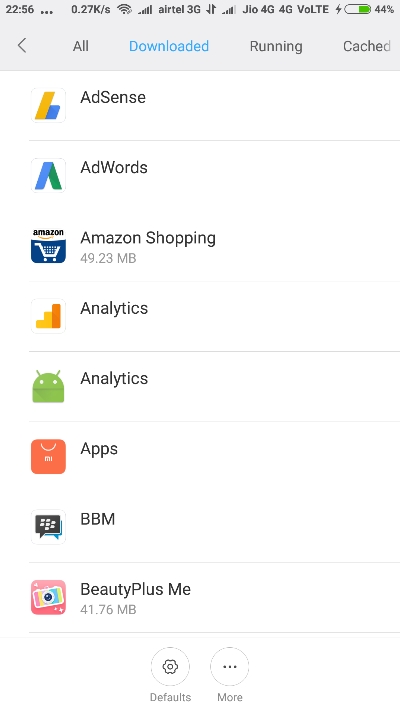 In these downloaded apps, at least one app is corrupted which is showing these unwanted ads, now we have to catch that cheater app, for this you have to find any suspected app by name in the list
There is a simple way to find that app, just search that app after which this problem started
If you are able to find such suspicious app ( any app by name which you didn't install or after installing which problem started ), disable or uninstall it and go to the home-screen and lock-screen to check for the ads
If there is no "Disable" option in settings, you can force stop and clear cache of the app. If that app is corrupted, you will not receive ads on home-screen and lock-screen.
If you are not sure which app is causing these ads, disable all of the downloaded apps in your phone and enable only necessary apps one by one and check ads after every step
After enabling corrupted app, ads will start and you will catch that cheater app
When you find that corrupted app, uninstall it immediately to permanently get rid of ads
Also Read: 8 Free Photo Editor Apps for Android Phone
Note:
In most of the cases this type of apps present in your phone with the names like: "System Analyzer", "Google Play Services" to confuse yourself. So your task is to find out and uninstall that app. Sometimes it is not possible for someone to find out such corrupted apps, in that case there is only one way to get rid of this problem, and this is Factory Reset. Take a complete backup of your phone on PC or cloud storage like Google Drive, and format your phone.
What You Should Keep in Mind
In most of the cases, this type of malicious software get installed in smartphones from unsecured websites. When you surf internet, there is very high probability to interact with a malicious website. When you tap anywhere on these websites, you get pop up windows and messages on screen like: " Your device is too slow, click here to make it fast". If you tap on the message, a software gets installed on the device which causes these unwanted activities. So close the tab of browser when you get such popups or notifications from any website.
Second thing which we want to tell you that you should have a high performance antivirus app on your smartphone. These antivirus apps keep your device safe from online and offline threats. Also keep Settings > Privacy > Unknown Sources unchecked so that any app from outside app store can't be installed on the device.
Still having any doubt or query, please comment below. We will reply as soon as possible.
Related: 5 Best Free Android Antivirus & Security Apps