XNSPY is a trending smartphone and tablet monitoring software available for iPhone, iPad, Android phones and tablets. This software is designed for ethical monitoring purposes like parental control and employee monitoring. It helps parents to increase security of their children and also helps employers to make their business more productive. We wrote this review after using XNSPY app on two smartphones, which are iPhone 7 and Samsung Galaxy S8. After using it for 7 days, we are writing all pros, cons along with detailed description of every aspect of this app.
XNSPY Detailed Review 2018 for iPhone and Android Devices
Here we are going to tell you about this app step by step. We are explaining everything about it, like compatibility, requirements, features, performance, is it worth the money?, customer support, pros and cons, stealthiness etc. Let us start now:
Compatibility
It is compatible with all versions of iPhone, iPad and all Android OS phones and tablets. Android and iOS are the most used operating systems nowadays, and XNSPY is fully compatible with them. Here compatibility means not only installation of this software but also the performance. Below we are telling you about its performance on supported phones in detail.
Performance
On all supported devices it works on background without any evidence. That means nobody can detect it while working. It gathers the data of target device and stealthily uploads to your online dashboard, and you can check it anytime and anywhere. It doesn't affect the working and performance of device in which it is installed. Also it can't be detected in task manager or on home screen.
Visit Official Website of XNSPY
Requirements
Mainly there are two requirements before installing it on any target smartphone. These are:
In Case of Android Phone
Physical Access: Physical access is necessary if you wanna install this app on an Android OS phone or tablet. There is no any remote way to install it on Android device.
Rooting: Rooting is not necessary to install it that means you install it on any Android device without rooting. But instant messengers can be spied only after rooting, that meaning rooting is required to monitor instant messengers otherwise you don't require to root target Android device.
In Case of iPhone / iPad
Jailbreaking: Jailbreaking is not necessary to install XNSPY on target iOS device. You can install it with or without jailbreaking. If you don't wanna jailbreak target iPhone, just buy it and select 'no-jailbreak solution' at the time of setting. Otherwise in jailbreak version you require physical access of target iPhone to install it. Difference between the two versions is that in no-jailbreak edition you will get less features than jailbreak edition.
Physical Access: In No-jailbreak solution physical access is not required but in jailbreak solution physical access is required to install it.
 Features Offered by XNSPY

Followings are the features offered by it:
Monitoring on phone calls and text messages
Spy on all instant messengers to check chats and media shared
Track GPS location of target device and get alerts on entering specific locations
Monitor browsing history, bookmarks and read all emails
Record and listen phone calls and surroundings
View all photos and videos saved in gallery
Spy on all calendar activities
Remotely wipe / lock target phone
View all installed apps and block them
Get alerts on specific keyword, contact, location or SIM change
How to Install XNSPY on Target Device
Installation is not a difficult task, we are going to give you an idea about it. Actually at the time of purchase they send you a confirmation email in which they send you username and password of online dashboard, link of dashboard, link to download XNSPY and activation code.
You need to open download link in the browser of target device and it will download the software on that device, after that tap on the downloaded file to install it. This process hardly takes 5 minutes. Now return the target device and logon to online dashboard and monitor that device. You should not take any tension of installation because after purchasing they will send you complete user guide.
Does It Worth the Money?
Yes absolutely. It provides all possible features which a monitoring app can avail. If you compare it with other monitoring apps, you will get a big list of features in minimum budget. They offer two subscriptions for smartphones, namely Basic and Premium. Basic subscription costs $49.99/month, if you purchase its basic yearly subscription it costs $99.99/yearly. In premium subscription number of features are almost double than the features in basic subscription. Check all subscriptions here:
BASIC
Monthly Edition – $49.99/month
Yearly Edition – $99.99/year
PREMIUM
Monthly Edition – $59.99/month
Yearly Edition – $149.99/year
Customer Support
They interact with customers only with ticket support that means they don't have any voice call facility for their customers. If you feel any difficulty, you need to contact them by submitting a ticket and need to wait for their response. By the way, their response time is very less that means they reply your queries or problems with in the same day, and we give their customer support 4 out of 5.
Is It Undetectable?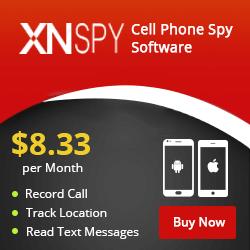 Yes, XNSPY is completely undetectable in the target smartphone and tablet either iOS or Android device. It is hidden on home screen and also in task manager or installed apps list. So you can say it is completely invisible monitoring app.
Pros
Phone calls & surround listening and recording is available
Provides remote commands like remotely wiping, locking etc.
Live screenshot feature is available
10 day refund policy
No-jailbreak solution is available for iOS devices
Cons
Customer support on voice calls is unavailable, which should be there
Remote camera feature is unavailable
It doesn't support Nokia and BlackBerry smartphones
Final Words
According to our reviewers and customers it is a good smartphone monitoring app. If you are satisfied in their given features, you should buy it. There is a Green Signal from our side. For any query related to it you can comment below, we will reply as soon as possible.
Also Read: How to Track Lost iPhone or iPad Without Any App